iPad Landscape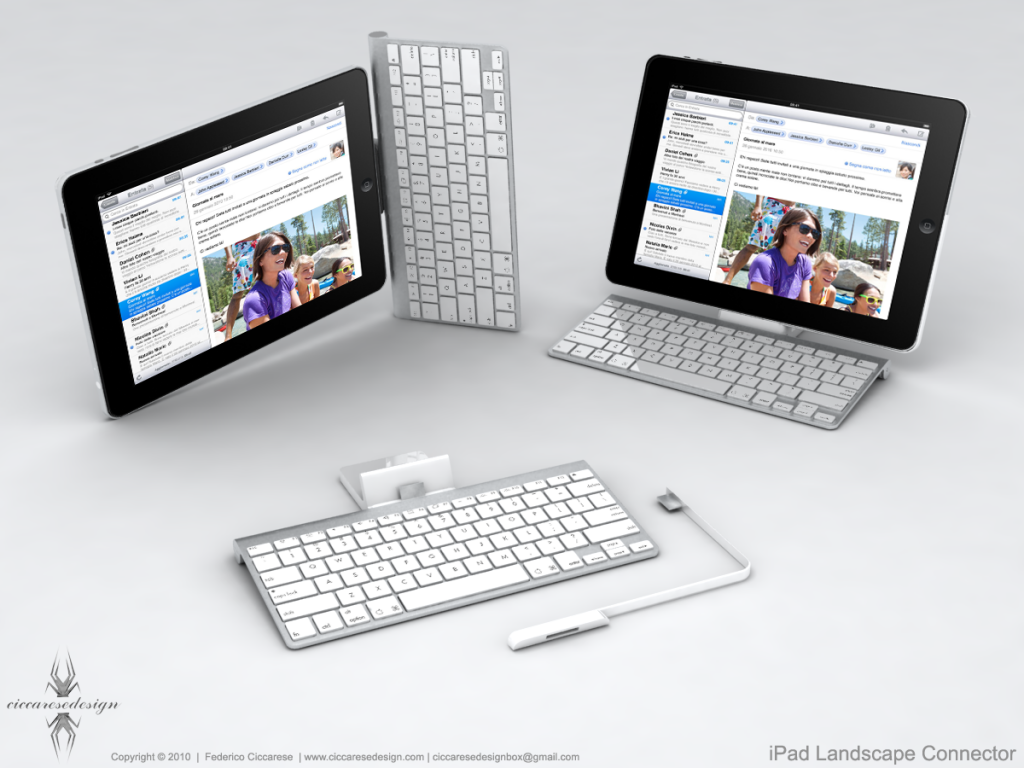 .
.
.
I present to you "iPad Landscape Connector", our gadget for iPad.
The dock of the iPad missing something important: the ability to place the device in Landscape (missing feature also dock the iPhone).
This position is very useful if you use a Bluetooth keyboard for writing text documents, e-mail, then you use the iPad on desktop, but also to view video, photo slide shows, etc.
To help you, we have designed a simple and inexpensive accessory that is interposed between the dock and the iPad to continue using your original dock Apple. This gadget bring the device horizontally maintaining order and without annoying wire. It's a rigid wire, connected to the dock at the end and connected to the iPad at the other end.
We are looking for a producer.
iPad Landscape Connector project is for sale.
.
Ecco il nostro nuovo progetto: "iPad Landscape".
Al dock dell'iPad manca qualcosa di importante: la possibilità  di posizionare il dispositivo in Landscape (caratteristica che manca anche al dock dell'iPhone).
Questa posizione torna molto utile nel caso si utilizzi l'iPad con una tastiera Bluetooth magari per scrivere documenti di testo, e-mail, insomma un utilizzo sulla scrivania, ma anche per visualizzare video, presentazioni fotografiche ecc ecc.
Per aiutarci in questo abbiamo progettato un semplice ed economico accessorio che si interpone tra il dock e l'iPad, così da continuare ad utilizzare il dock originale Apple che già  abbiamo in casa per portare lo strumento in orizzontale preservando ordine senza cavi volanti e quant'altro.
E' in pratica un connettore rigido femmina in un'estremità , per accogliere l'uscita del dock, e maschio dall'altra per connettersi all'iPad.
Nelle immagini è schematizzato il funzionamento.
Stiamo cercando un produttore, questo progetto è in vendita.